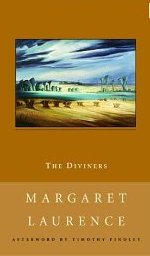 Morag Gunn is a middle-aged writer who lives on a farm in northern Ontario. One day, she finds some pictures from her childhood, and this sets off some memories that become the material and impetus for the telling of her life story, The Diviners. The word, diviners, has many definitions. One of Morag's neighbors, Royland, is a diviner of water—finding wells. Many of the characters, including Morag assume the definitions of diviners that include inspiration, intuition, and reflection.
 Morag's parents died when she was a little girl. They died of infantile paralysis (polio). This was one of the saddest and loneliest of the memories. Morag was brought up by Christie Logan, the despised town scavenger, and his increasingly obese and inactive wife, Prin. Although they do not have much to give, Prin is kind and Christie gives Morag a rich store of tales of a (probably imaginary) Scottish hero, Piper Gunn. In fact, Christie is one of my favorite characters in the novel. Uneducated and raw, he is still keenly bright and observant—and some of his language and quips set the reader laughing. Like many of us when we are young, Morag does not appreciate Christie until she is long gone and it is too late. Determined to leave, Morag goes to college, where she falls in love with, and marries, Brooke Skelton, a handsome professor fifteen years her senior; he takes her to Toronto, where he has a new position and where she sinks unwillingly into the life of a professor's wife. Brooke does not want children, and he patronizes her attempts to write. After much struggle, Morag completes and publishes a novel.
Morag accidentally encounters Jules Tonnerre, a half-breed (Metis) who was her first high school boyfriend. When Brooke reacts jealously to her friend, Morag moves in with Jules,which brings her marriage to an end. This results in pregnancy. Although she cares about Jules, she knows he is not a husband and wife kind of guy, so she moves to Vancouver, where she bears her daughter, Pique, and continues trying to advance her writing career. Her support comes from women: an old college friend, the friend's mother, a landlady who is an exotic dancer. Eventually, Morag goes to England, where she writes, works in a bookstore, and has a frustrating relationship with a painter. Throughout the story, Morag comes to realize how her roots are heavily entwined in how she comes to view the world.
 Jules, with whom Morag has lived for brief periods but who has never settled down, is worn out by his life as a country music singer and dies of throat cancer. Pique, now aged eighteen, has seen her father only rarely but feels bound to him as a singer and as a Metis. She begins to take an interest in her dad's family—and unlike her mother—much earlier. Morag, who has been setting down all these events on paper, realizes that this is the novel she has been trying to write.